This month we have some colourful specials, new classics and a hint of what's coming…
Strange Endings
Unusual and skilfully contrived, each story stars the finest actors of the era – such as Lyndal Barbour, Alan White, Dinah Shearing, John Bushelle, Bebe Scott, Owen Ainley and more. These very enjoyable short stories cover a mix of genres, each with a strange twist at the climax. 12 x 12 minute self-contained episodes. $20.00 Read more
Classic Cactus - August 2019
If you haven't already heard the Classic repeat of the Hollywood episode featuring 'John Michael' then you must – such brilliant writing and a gifted acting performance from Keith Scott, and we've had heaps of requests for it. It's included in this month's batch – don't miss this collection! 22 episodes, download only. $12.00 Read more
Let's spring into the September Specials with a touch of colour…

Coming Soon
Here's a hint of what will be available in coming months…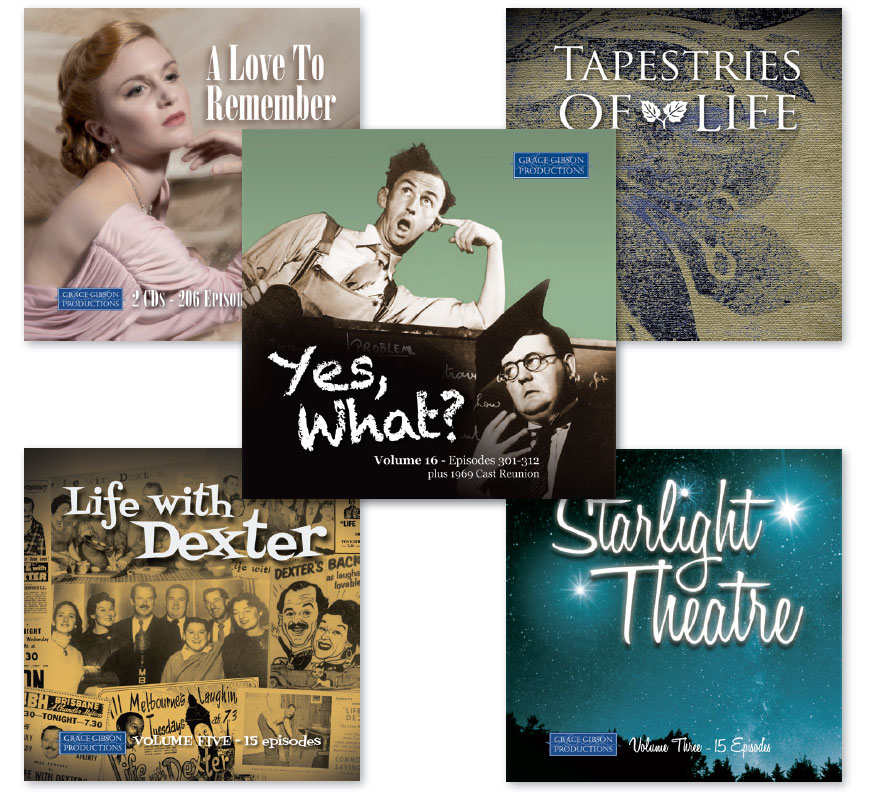 along with other titles such as You Can't Win, Volumes 23 & 24 of The Passing Parade, more
Grace Gibson Radio Classics, and a surprise or two before Christmas!
Order Options:
Website: gracegibsonradio.com and use the Paypal secure payment system or phone us on (02) 9906-2244 with credit card details,
or fax (02) 9906-2114, or send a cheque or money order to:
Grace Gibson Productions, PO Box 7377, Leura NSW 2780.
If sending a cheque or money order please ensure you nominate what you are ordering and include your address details for dispatch.
If you do not wish to receive further updates, please email us at info@gracegibsonradio.com with REMOVE in the title line and include your details, or phone us on (02) 9906-2244 or fax on (02) 9906-2114.
A Few Important Notes… Please Consider Carefully Before Ordering:
mp3 Format CDs - these may not play in some CD players
Audio Quality - Whilst we go to great lengths to ensure the audio quality we offer is the best we possibly can - including processing our
material through the worlds best audio processing from CEDAR Cambridge - the programs offered herein have, in many instances, been
retrieved from original recordings produced on 16 inch, 12 inch and 10 inch record albums and may therefore reflect the recording and
reproduction fidelity of their times. In offering these programs for sale to the general public, we cannot accept responsibility, nor offer refunds,
for any disappointment with the audio quality that some of these serials may exhibit.