This month it's a situation where the dangers at sea are not all 'natural',

plus other

great stories to add to the library, and specials

to tempt the budget conscious.
Colonel Hacking of Interpol, who appeared in
The Man Who Came
To
Kill
, summonses Dirk Kendall to his London office and tells him to fly to Sydney and sign on as First Officer of the cargo steamer, SS
Tangmar
, which is sailing for Jamaica.
Whilst aboard Kendall is to observe the actions of six passengers, five of whom are beneficiaries of a million pound will, to be divided equally between all those who safely arrive in Jamaica. Kendall must also discover which of the passengers was responsible for the death of a sixth beneficiary.
It's an action-packed, fast-moving adventure that combines murder,
tragedy
and romance, all set on the high seas.
The stars of this series are Nigel Lovell, Gordon
Glenwright
, Dinah Shearing, Pat Crocker, Don
Pascoe
and Lionel Stevens.
Dual Purpose Drama Library – Volume 3
As the title of the show implies this series presented different ways of broadcasting – some stations broadcast one segment per day on a Monday to Friday basis, whereas other stations played all 5 episodes on one day as a complete hour-long story.
The stories are all originals written by top radio writers and include romance, mystery,
suspense
and comedy. The cast and crew enjoyed creating such a variety of entertainment.
Each story is completed in 5 segments and there are eight stories on this volume.
March Specials
Our specials for March are all about 'international intrigue and espionage' – take your pick from these great stories, all just $30.00 each: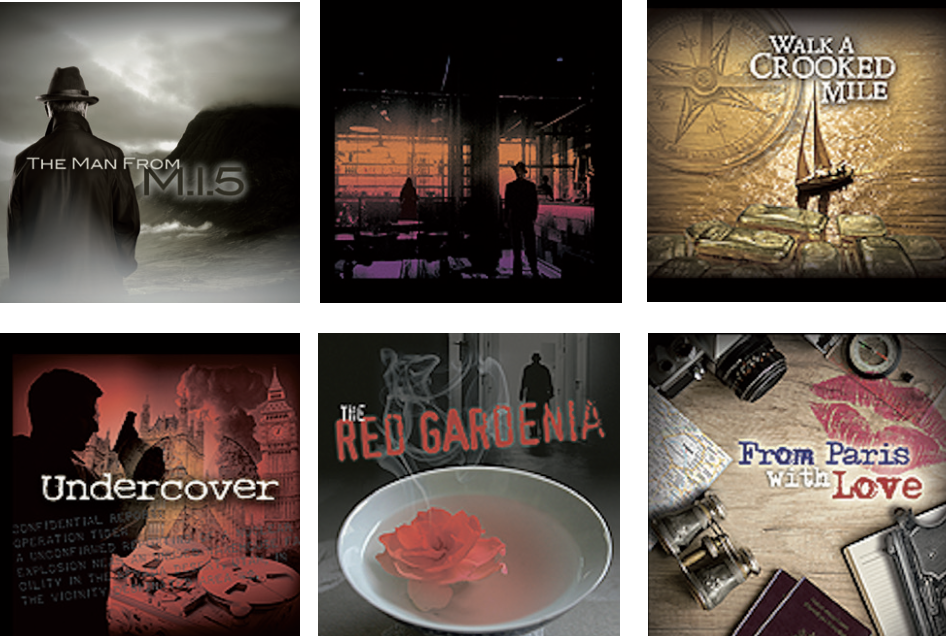 Undercover –
Operation Tiger and The Black Diamond – two great mysteries
Spies and Espionage on Radio
It's a very popular genre – whether it be modern, cold-war or even historical - a good 'cloak and dagger' story always works well. And it's a genre that worked extremely well with the medium of radio – all those word pictures, voice inflections and sound effects create vivid mind pictures. Plus, the images represented in these radio series
meant that each individual listener created their own mind pictures – rather than images created
by someone else, as happens with TV shows.
Traditionally they were broadcast later in the evening (so that the children didn't go to bed and have nightmares).
The Adventures of Major Gregory Keen (the first of which is Dossier on Dumetrius) was one of the first post-war espionage series. Its outstanding success meant the follow-on adventure (Deadly Nightshade) was commissioned almost immediately. There are five adventures in the
series. Long regarded as a forerunner to the James
Bond franchise, The Adventures of Major Gregory Keen were penned by Lindsay Hardy – who had
met and mixed with some of the inspirations for his characters when he was in London.
Other popular titles in this genre include A Mask For Alexis, Goodbye Gwynnevere, The Red
Gardenia and Undercover.
As the behaviour of spies, investigators and
commandos necessarily involves an element of crime – these stories are usually categorised as 'Crime & Mystery'. Who are we to draw a line on what is crime and what is espionage??
We've been told on more than one occasion
that many people especially love listening to these shows when commuting to work or 'grey
nomading' as it keeps their minds focussed during their travels.

Here's a tip...want to 'try before you buy', or not entirely sure if that's the show you're after?
Click the 'Sample Episode' tab on our website and you can hear the first episode of each the titles we currently have available (don't forget we're constantly adding new shows to the line-up).
Sometimes you're asked to 'grab a gift', having been told the intro sounds something like 'this' … other times there's confusion with a similar sounding title of a show … a visit to 'Sample Episode' can help solve the problem.
Alternatively, call us for a sample CD and we'll put one in the post for you, along with our catalogue.
Order Options:
Website: gracegibsonradio.com and use the Paypal secure payment system or phone us on (02) 9906-2244 with credit card details,
or fax (02) 9906-2114, or send a cheque or money order to:
Grace Gibson Productions, PO Box 7377, Leura NSW 2780.
If sending a cheque or money order please ensure you nominate what you are ordering and include your address details for dispatch.
If you do not wish to receive further updates, please email us at info@gracegibsonradio.com with REMOVE in the title line and include your details, or phone us on (02) 9906-2244 or fax on (02) 9906-2114.
A Few Important Notes… Please Consider Carefully Before Ordering:


mp3 Format on CDs (may not play in some CD players); mp3 on USB Flash Drives; m4a (AAC) on Downloads
Audio Quality - Whilst we go to great lengths to ensure the audio quality we offer is the best we possibly can - including processing our material through the worlds best audio processing from CEDAR Cambridge - the programs offered herein have, in many instances, been retrieved from original recordings produced on 16 inch, 12 inch and 10 inch record albums and may therefore reflect the recording and reproduction fidelity of their times. In offering these programs for sale to the general public, we cannot accept responsibility, nor offer refunds, for any disappointment with the audio quality that some of these serials may exhibit.