Something for all tastes this month – crime and mystery, a variety show and some more giggles with Classic Cactus. There are also some specials that might appeal as gifts for Dad's Day.
Carter Brown Mystery Hour – Volume 2
A sophisticated series of mystery, action and suspense – adapted from the famous Carter Brown mystery novels.
There are eight complete 'hour long' stories on this volume.
Definitely some classics in the July broadcast of
Classic Cactus
, including one of our favourite 'Bogan' sketches, along with a nod to 'God' Whitlam. 23 very entertaining episodes.
The variety of genres encompassed in
Starlight Theatre
has developed a strong following. There are another 15 self- contained stories on this volume.
August Specials
We've chosen some titles that are favourites with Dads we know...and they're all at a very low price of just $30.00 each for this month only.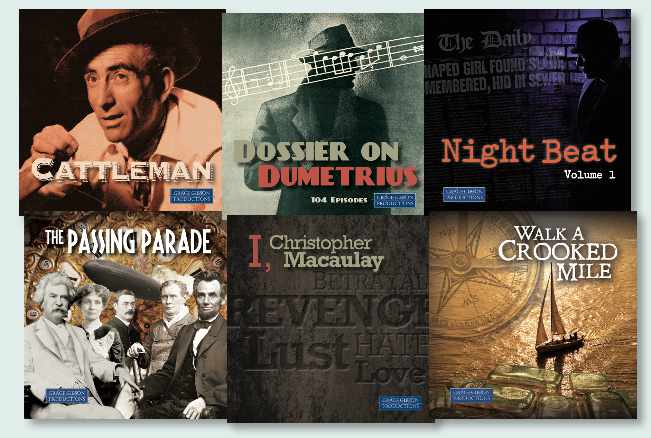 Next month will offer more drama, including a new title. Stay tuned...
Order Options:
Website: gracegibsonradio.com and use the Paypal secure payment system or phone us on (02) 9906-2244 with credit card details,
or fax (02) 9906-2114, or send a cheque or money order to:
Grace Gibson Productions, PO Box 7377, Leura NSW 2780.
If sending a cheque or money order please ensure you nominate what you are ordering and include your address details for dispatch.
If you do not wish to receive further updates, please email us at info@gracegibsonradio.com with REMOVE in the title line and include your details, or phone us on (02) 9906-2244 or fax on (02) 9906-2114.
A Few Important Notes… Please Consider Carefully Before Ordering:
mp3 Format CDs - these may not play in some CD players
Audio Quality - Whilst we go to great lengths to ensure the audio quality we offer is the best we possibly can - including processing our material through the worlds best audio processing from CEDAR Cambridge - the programs offered herein have, in many instances, been retrieved from original recordings produced on 16 inch, 12 inch and 10 inch record albums and may therefore reflect the recording and reproduction fidelity of their times. In offering these programs for sale to the general public, we cannot accept responsibility, nor offer refunds, for any disappointment with the audio quality that some of these serials may exhibit.