Happy New Year – and let's all try to make it a very positive year!
And we have a great new title (with a sequel to follow in coming months), January specials and a list of the current top selling titles.
The Man Who Came To Kill
Paul Saracen, peace-time assassin, whose 'Sign Of The Scimitar' was left at the scene of half a dozen unexplained killings, sees an
opportunity to profit when he hears a wealthy financier has been robbed. However, the British head of Interpol is already on the assassin's trail - using Saracen's former army pal.
Suspense and intrigue follow as the debonair Saracen contracts to murder two people –both of whom have paid him to kill the other.
104 x 12 minute episodes -
Now $40.00
In the heart of Sydney's colourful, cosmopolitan King's Cross is The Spiral – a small off- shoot of bustling Macleay Street. At number 10, The Spiral, are the offices of Connor and Mintz, Private Investigators. Frank Connor, who can be as tough as he is gentle, is teamed with Joe Mintz, a steady, reliable, quick-acting partner in a hazardous business.
Connor and Mintz welcome every assignment, but when a case promises action and dangerous living – their eyes light up with
anticipation!
15 x 24 minute episodes -
Now $30.00
January Specials
And now for the shows 'on special' during January, and each one is just
$30.00: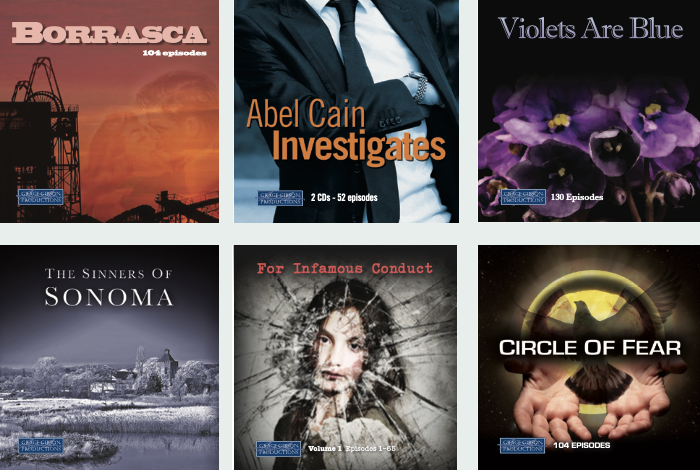 • Borrasca –
a girl must choose the rich man or the poor man – can she change her mind?

Here's a tip...want to 'try before you buy', or not entirely sure if that's the show you're after?
Click the 'Sample Episode' tab on our website and you can hear the first episode of each the titles we currently have available (don't forget we're constantly adding new shows to the line-up).
Sometimes you're asked to 'grab a gift', having been told the intro sounds something like 'this' … other times there's confusion with a similar sounding title of a show … a visit to 'Sample Episode' can help solve the problem.
Alternatively, call us for a sample CD and we'll put one in the post for you, along with our catalogue.
Order Options:
Website: gracegibsonradio.com and use the Paypal secure payment system or phone us on (02) 9906-2244 with credit card details,
or fax (02) 9906-2114, or send a cheque or money order to:
Grace Gibson Productions, PO Box 7377, Leura NSW 2780.
If sending a cheque or money order please ensure you nominate what you are ordering and include your address details for dispatch.
If you do not wish to receive further updates, please email us at info@gracegibsonradio.com with REMOVE in the title line and include your details, or phone us on (02) 9906-2244 or fax on (02) 9906-2114.
A Few Important Notes… Please Consider Carefully Before Ordering:


mp3 Format on CDs (may not play in some CD players); mp3 on USB Flash Drives; m4a (AAC) on Downloads
Audio Quality - Whilst we go to great lengths to ensure the audio quality we offer is the best we possibly can - including processing our material through the worlds best audio processing from CEDAR Cambridge - the programs offered herein have, in many instances, been retrieved from original recordings produced on 16 inch, 12 inch and 10 inch record albums and may therefore reflect the recording and reproduction fidelity of their times. In offering these programs for sale to the general public, we cannot accept responsibility, nor offer refunds, for any disappointment with the audio quality that some of these serials may exhibit.