Mum's the word for May – well, in some quarters anyway...
We hope our May specials and new releases will appeal to everyone, including Mums!
The Witches Tale
There have been a number of requests for this one – we love it and hope you do too. A radio horror series from the early 1940s featuring weird, blood chilling tales of the supernatural, as told by 'Old Nancy'
the witch of Salem and 'Satan' her wise black cat. Adapted from US scripts for Australian audiences and stars Nellie Lamport, with Queenie Ashton providing the vocal sound effects for Satan the cat!
15 x 24 minute self-contained episodes $35.00


Address Unknown - Volume 5
It's been a while since the last volume and we're aware some people have been very patiently waiting for this one… When people disappear nobody knows just where they will turn up, and there is virtually no place on Earth which has not at some time or other been combed by the agents of the Missing Persons Bureau. Narrator,
Henry Simon, tells the stories of people whose records are kept in the (fictitious) Missing Persons Bureau in London.
15 x 24 self-contained stories $35.00


Cactus: Buy The Month April 2020
Circumstances of late have really made everyone appreciate a good laugh, and these Classic Cactus episodes certainly don't disappoint.
22 very enjoyable episodes! Download only
Marvellous May specials
Marvellous May specials aimed at providing listening pleasure and distraction from
COVID-19 reality…and all discounted to $30.00 for this month only. They're
different genres, different durations - and all very entertaining stories.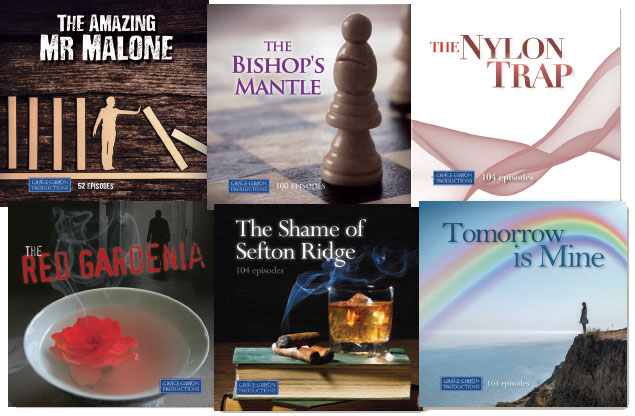 And don't forget our new USB (flash drive) package deals. Great for periods of isolation
and long trips – just plug in and play the USB. So easy and convenient to have whole
series/collections on just one small USB drive.
Order Options:
Website: gracegibsonradio.com and use the Paypal secure payment system or phone us on (02) 9906-2244 with credit card details,
or fax (02) 9906-2114, or send a cheque or money order to:
Grace Gibson Productions, PO Box 7377, Leura NSW 2780.
If sending a cheque or money order please ensure you nominate what you are ordering and include your address details for dispatch.
If you do not wish to receive further updates, please email us at info@gracegibsonradio.com with REMOVE in the title line and include your details, or phone us on (02) 9906-2244 or fax on (02) 9906-2114.
A Few Important Notes… Please Consider Carefully Before Ordering:
mp3 Format CDs - these may not play in some CD players
Audio Quality - Whilst we go to great lengths to ensure the audio quality we offer is the best we possibly can - including processing our material through the worlds best audio processing from CEDAR Cambridge - the programs offered herein have, in many instances, been retrieved from original recordings produced on 16 inch, 12 inch and 10 inch record albums and may therefore reflect the recording and reproduction fidelity of their times. In offering these programs for sale to the general public, we cannot accept responsibility, nor offer refunds, for any disappointment with the audio quality that some of these serials may exhibit.