Theatre of the Mind Entertainment
April is alive with challenges for us all – radio dramas and comedies provide entertainment that allows us to escape into 'theatres of our minds' whilst still allowing us to move around and be active. Our new releases bring new volumes of some of your favourite shows, our specials this month focus on 'half hour' shows, and don't forget our free post on orders of $50.00 or more is still in place.
The Passing Parade (Volumes 25 & 26)
The Passing Parade (Volumes 25 & 26)
These two volumes are the final ones in the series. One hundred tracks across the two volumes narrated by the mellifluous, and warm, voice of John Doremus. 50 tracks per volume.
22 tracks of very clever Cactus episodes. We just love so many of these classic tracks – they're as relevant now as ever. Download only.
Shadow of Fate (Volume 3)
A fascinating series of suspense dramas about ordinary people caught up in extraordinary circumstances and destined by fate to perform extraordinary actions. 15 x 24 mins self-contained stories.
April Specials
With COVID-19 keeping everyone indoors, we figured you may love to enjoy some of
our longer running dramas, so our April specials are all 'half-hour' shows. Each Volume
contains 15 x 24 minutes stories (the remaining 6 mins of the half hour was to allow for
commercial breaks!). All are just $25.00 each.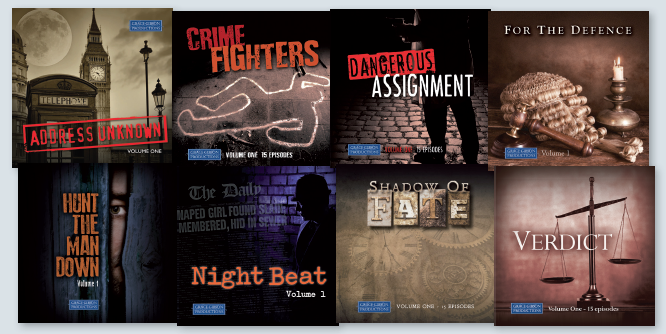 And don't forget our new USB (flash drive) package deals. Great for periods of isolation
and long trips – just plug in and play the USB. So easy and convenient to have whole
series/collections on just one small USB drive.
Order Options:
Website: gracegibsonradio.com and use the Paypal secure payment system or phone us on (02) 9906-2244 with credit card details,
or fax (02) 9906-2114, or send a cheque or money order to:
Grace Gibson Productions, PO Box 7377, Leura NSW 2780.
If sending a cheque or money order please ensure you nominate what you are ordering and include your address details for dispatch.
If you do not wish to receive further updates, please email us at info@gracegibsonradio.com with REMOVE in the title line and include your details, or phone us on (02) 9906-2244 or fax on (02) 9906-2114.
A Few Important Notes… Please Consider Carefully Before Ordering:
mp3 Format CDs - these may not play in some CD players
Audio Quality - Whilst we go to great lengths to ensure the audio quality we offer is the best we possibly can - including processing our material through the worlds best audio processing from CEDAR Cambridge - the programs offered herein have, in many instances, been retrieved from original recordings produced on 16 inch, 12 inch and 10 inch record albums and may therefore reflect the recording and reproduction fidelity of their times. In offering these programs for sale to the general public, we cannot accept responsibility, nor offer refunds, for any disappointment with the audio quality that some of these serials may exhibit.