This month we have more of our popular classics – Life With Dexter,
Classic Cactus and Starlight Theatre. And since things have been a bit tough all round lately, our March specials hope to encourage a smile or two… plus, we have a very big announcement about USBs.
For dedicated followers of the antics of the Dutton family, and specifically Dexter, we now have Volume 6 available. 15 x 24 self-contained episodes, (or more correctly, should we say, 15 x 24 minutes of mayhem and laughter!) $35.00
Time and time again our pollies and tall poppies incriminate themselves comedically speaking of course! (And often with the same old antics.) Some would say our leaders and leadership teams are actually captaining a group of very slow learners…discover more in all the episodes broadcast during February. 20 episodes – download only. $12.00


Starlight Theatre - Volume 4
The mix of genres in this series has proved to be popular – providing a variety of entertainment, that work particularly well on long drives/ commutes. 15 x 24 minutes self-contained episodes.
Our smiley March specials are just $25.00 each:

Pikelets – gentle smiles and general information
Yes, What? (Volume 1) - mischief making that endures
Now for something totally new –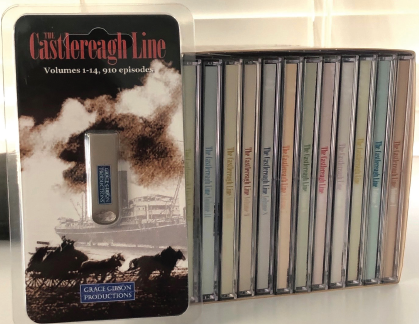 Our package deals are now all available on USB drives (some people prefer to call them zip drives or flash drives). And don't let the tiny size of the USB drive fool you, the quality is equally as good – or better – than their CD cousins. If you like big things in small packages, then choose from:
The Castlereagh Line – all 14 volumes on one USB
Cactus: The 'Best Of' Collection – all 21 volumes on one USB
The Adventures of Major Gregory Keen – all five adventures on one USB
The Chickenman Collection – all five volumes, including 'Rarities' on one USB
Cactus: The Early Years – all five titles on one USB
The Portia Manning Series – all four titles on one USB
The Tooth Fairy Collection - all 195 episodes on one USB
The Catherine Gaskin Collection – all three titles on one USB
Plus, you can now also get all 16 Volumes of Yes, What? on one USB if you wish.
Shop online at gracegibsonradio.com or call us on (02) 9906-2244. We also accept mail
orders with credit card details, cheques or money orders.
Order Options:
Website: gracegibsonradio.com and use the Paypal secure payment system or phone us on (02) 9906-2244 with credit card details,
or fax (02) 9906-2114, or send a cheque or money order to:
Grace Gibson Productions, PO Box 7377, Leura NSW 2780.
If sending a cheque or money order please ensure you nominate what you are ordering and include your address details for dispatch.
If you do not wish to receive further updates, please email us at info@gracegibsonradio.com with REMOVE in the title line and include your details, or phone us on (02) 9906-2244 or fax on (02) 9906-2114.
A Few Important Notes… Please Consider Carefully Before Ordering:
mp3 Format CDs - these may not play in some CD players
Audio Quality - Whilst we go to great lengths to ensure the audio quality we offer is the best we possibly can - including processing our
material through the worlds best audio processing from CEDAR Cambridge - the programs offered herein have, in many instances, been
retrieved from original recordings produced on 16 inch, 12 inch and 10 inch record albums and may therefore reflect the recording and
reproduction fidelity of their times. In offering these programs for sale to the general public, we cannot accept responsibility, nor offer refunds,
for any disappointment with the audio quality that some of these serials may exhibit.