Interesting new characters, differently formatted stories and intriguing specials...plus nominate your favourite sound.
Gabrielle
When a girl is accidentally killed, her killer's conscience drives him into seeking the history of her life, and an amazing story unfolds.
Produced by Donovan Joyce and scripted by Richard Lane,
Gabrielle
stars Dinah Shearing and Frank Waters.
104 episodes x 12 minute episodes.
$45.00
Digest Of Drama
offers a selection of top-quality dramas, with scripts by very creative authors and presented by a talented ensemble cast of actors. There is a fast-paced and absorbing complete story across each set of eight episodes – around 2 hours of listening to each tale. Volume 1 comprises 6 stories.
48 x 12 minute episodes.
$40.00
Classic Cactus: Buy The Month June 2021
Larger than life characters, laughter in the halls of power and love thyself, er, love one another – Cactus accounts for them all. Enjoy more great comedy. 22 episodes – download only
$12.00
The Sounds of Australia
Established in 2007, the Sounds of Australia is the NFSA's annual selection of sound recordings with cultural, historical and aesthetic significance and relevance, which inform or reflect life in Australia.
Each year, the Australian public nominates new sounds to be added with final
selections determined by a panel of industry experts. They can be popular songs, advertising jingles, famous speeches, radio broadcasts, or any other sound recordings –
as long as they're Australian and more than 10 years old.
July Specials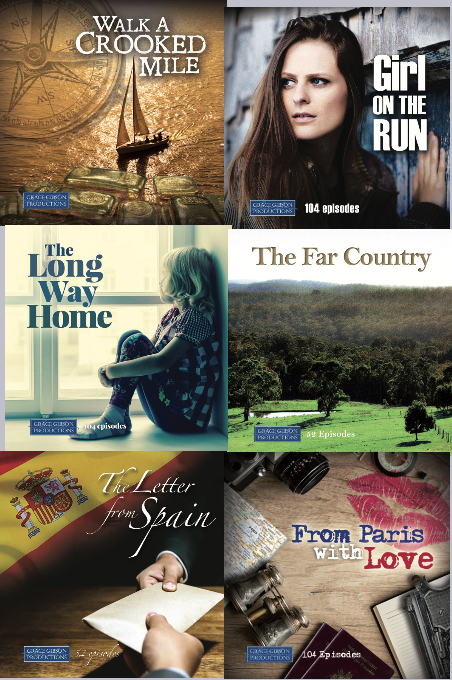 This month, some stories with titles that are suggestive of a journey - even if there's a bit more to it. They're just $30.00 each.
Girl On The Run
– after declining her boss's advances, life gets complicated
Order Options:
Website: gracegibsonradio.com and use the Paypal secure payment system or phone us on (02) 9906-2244 with credit card details,
or fax (02) 9906-2114, or send a cheque or money order to:
Grace Gibson Productions, PO Box 7377, Leura NSW 2780.
If sending a cheque or money order please ensure you nominate what you are ordering and include your address details for dispatch.
If you do not wish to receive further updates, please email us at info@gracegibsonradio.com with REMOVE in the title line and include your details, or phone us on (02) 9906-2244 or fax on (02) 9906-2114.
A Few Important Notes… Please Consider Carefully Before Ordering:


mp3 Format on CDs (may not play in some CD players); mp3 on USB Flash Drives; m4a (AAC) on Downloads
Audio Quality - Whilst we go to great lengths to ensure the audio quality we offer is the best we possibly can - including processing our material through the worlds best audio processing from CEDAR Cambridge - the programs offered herein have, in many instances, been retrieved from original recordings produced on 16 inch, 12 inch and 10 inch record albums and may therefore reflect the recording and reproduction fidelity of their times. In offering these programs for sale to the general public, we cannot accept responsibility, nor offer refunds, for any disappointment with the audio quality that some of these serials may exhibit.