Our big news:
Firstly,

USB Flash Drives

: We are now offering a trifecta of listening options: we've added USB Flash Drives as a purchase option. You can now choose between Downloads, CDs, and USB Flash Drives.
We've also just launched an updated catalogue – if you'd like a printed copy sent to you, please just let us know. And now for this month's new products:
Harriet Lee married young, in the careless rapture of her first true love. Wedded young and lived to regret it for, as our story opens, she has been a deserted wife for thirteen exhausting years, during which she has battled to raise her two children whilst rising to an executive position in the advertising industry.
Definitely some classics in the July broadcast of
Classic Cactus
, including one of our favourite 'Bogan' sketches, along with a nod to 'God' Whitlam. 23 very entertaining episodes.
"Hi, This is Randy Stone. I cover the Night Beat for The Daily" – and he's back with more great stories about the interesting people he meets.
Night Beat
– that's where Randy gets his stories: the grim ones, the strange ones, and the gentle ones. In Randy's words: - "You see plenty of action and take a lot of chances, but it's worth it for the stories you get and the people you meet".
15 x 24 min self-contained episodes
$35.00
September
Specials
Since it's the beginning of Spring, we thought we'd go with some 'colourful' titles for our specials this month. Just $30.00 each during September.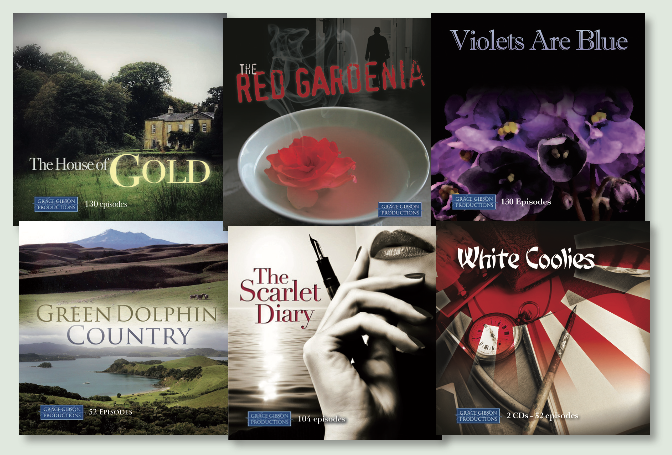 White Coolies
– over 20 hours dramatising the heart-wrenching WWII nurse's life
Want more bargains? Check out our package buys, and keep an eye out for next month's Newsletter.
Order Options:
Website: gracegibsonradio.com and use the Paypal secure payment system or phone us on (02) 9906-2244 with credit card details,
or fax (02) 9906-2114, or send a cheque or money order to:
Grace Gibson Productions, PO Box 7377, Leura NSW 2780.
If sending a cheque or money order please ensure you nominate what you are ordering and include your address details for dispatch.
If you do not wish to receive further updates, please email us at info@gracegibsonradio.com with REMOVE in the title line and include your details, or phone us on (02) 9906-2244 or fax on (02) 9906-2114.
A Few Important Notes… Please Consider Carefully Before Ordering:


mp3 Format on CDs (may not play in some CD players); mp3 on USB Flash Drives; m4a (AAC) on Downloads
Audio Quality - Whilst we go to great lengths to ensure the audio quality we offer is the best we possibly can - including processing our material through the worlds best audio processing from CEDAR Cambridge - the programs offered herein have, in many instances, been retrieved from original recordings produced on 16 inch, 12 inch and 10 inch record albums and may therefore reflect the recording and reproduction fidelity of their times. In offering these programs for sale to the general public, we cannot accept responsibility, nor offer refunds, for any disappointment with the audio quality that some of these serials may exhibit.