A brand new title plus new material for existing titles. Here's what June has to offer:
Kevin Trump: Private Detective
Open the vault: here's one from the early days of the writers of How Green Was My Cactus. A mad send-up of the noir private detective genre, starring Kev Golsby, Ross Higgins & Robyn Moore.
65 x 3 minute episodes $35.00
Classic Cactus: Buy The Month May 2020
As aired by radio stations across Australia throughout May, here are another 21 gems covering everything from the Bogans, to former Prime Ministers who write biographies, to the everyday shambles of what is politics!
21 episodes, download only $12.00
Yes, we know…there are devoted fans who have been waiting, waiting, waiting for more of Randy Stone's adventures! And for
those who may not be familiar with the series, here's Randy: "Night Beat – that's where I get my stories; the grim ones, the
strange ones, and the gentle ones. Night Beat is the story behind the stories in a newspaper column, and the man who writes them. That's me - Randy Stone."
15 x 24 minute self-contained episodes. $35.00 Read More


June Specials
Winter is upon us bringing shorter days and cooler temperatures – our June specials
offer some thought-provoking mysteries to keep minds active, and at just $30.00 each,
you could probably indulge in a couple of them.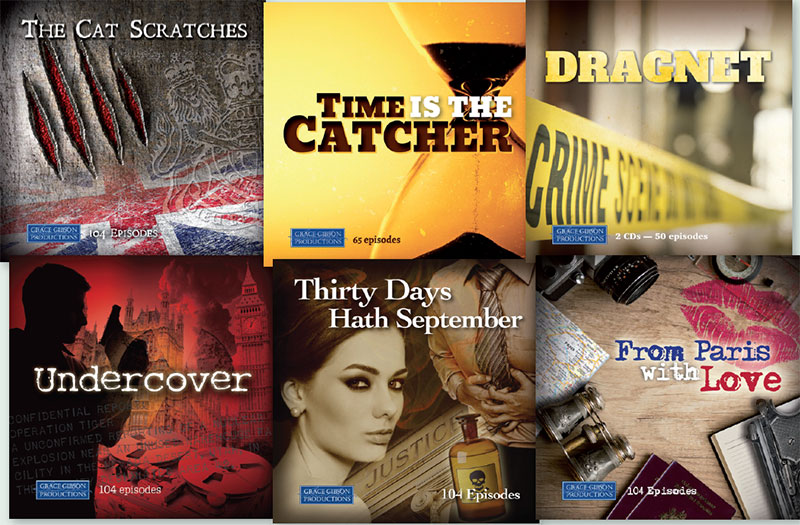 Dragnet – classic crime solving with Joe Friday
Undercover – two adventures combining romance & espionage
And don't forget our new USB (flash drive) package deals. Great for periods of isolation
and long trips – just plug in and play the USB. So easy and convenient to have whole
series/collections on just one small USB drive.
Order Options:
Website: gracegibsonradio.com and use the Paypal secure payment system or phone us on (02) 9906-2244 with credit card details,
or fax (02) 9906-2114, or send a cheque or money order to:
Grace Gibson Productions, PO Box 7377, Leura NSW 2780.
If sending a cheque or money order please ensure you nominate what you are ordering and include your address details for dispatch.
If you do not wish to receive further updates, please email us at info@gracegibsonradio.com with REMOVE in the title line and include your details, or phone us on (02) 9906-2244 or fax on (02) 9906-2114.
A Few Important Notes… Please Consider Carefully Before Ordering:
mp3 Format CDs - these may not play in some CD players
Audio Quality - Whilst we go to great lengths to ensure the audio quality we offer is the best we possibly can - including processing our material through the worlds best audio processing from CEDAR Cambridge - the programs offered herein have, in many instances, been retrieved from original recordings produced on 16 inch, 12 inch and 10 inch record albums and may therefore reflect the recording and reproduction fidelity of their times. In offering these programs for sale to the general public, we cannot accept responsibility, nor offer refunds, for any disappointment with the audio quality that some of these serials may exhibit.