New and familiar titles, plus a whole lot of November specials
Tapestries of Life (Coming Soon)

True stories that reveal unfamiliar moments in the lives of the great, rich or famous - from right around the world and from
various eras - such as Madame Curie, ancient Greece, the turmoil of the American Civil War, Cole Porter, Mark Twain, The Times of London, Christopher Columbus, Marconi, Annie Laurie.
100 x 12 minute episodes $45.00
Life With Dexter – Volume 5
Coastal Broadcasters in Innisfail and Mareeba are developing quite a following with their Sunday night broadcasts of this very Australian comedy.
Volume 5 sees Dexter and his cohorts (and family) creating more outrageous scenarios – and living and laughing to tell the tale!
15 x 24 minute self-contained episodes
Classic Cactus: Buy The Month October
2019 Classic Cactus, classic characters, classic humour – more people are discovering and re-discovering their favourites with this version of How Green Was My Cactus. BTW - The episodes for
each month are listed on the product page of the website. Download only. 23 episodes this month. Still just $12.00
November Specials – for those wanting to 'get in early' for
Christmas, we have quite a range of offerings…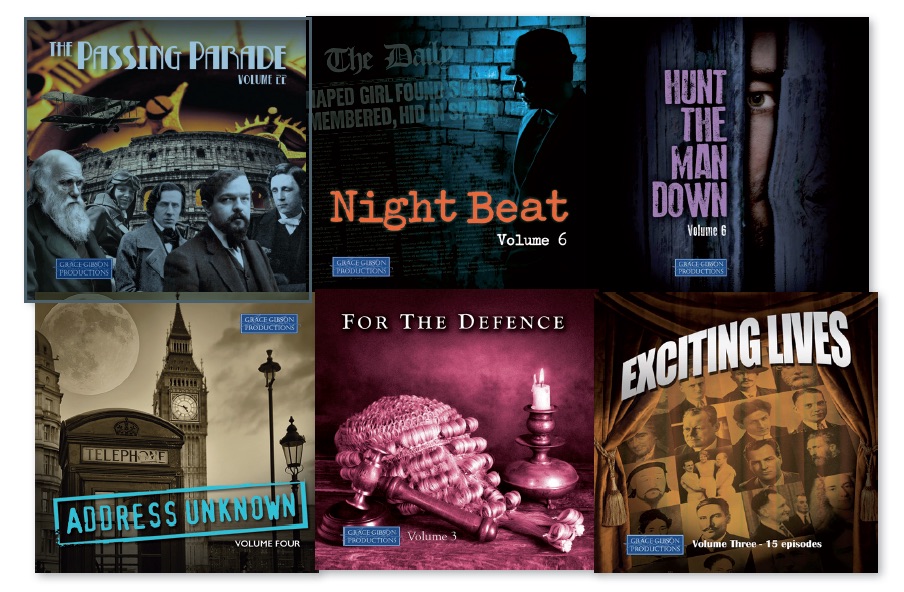 Stay tuned for our December Newsletter – we'll have quite a few new products, along with some Christmas specials that'll broaden your options.
Order Options:
Website: gracegibsonradio.com and use the Paypal secure payment system or phone us on (02) 9906-2244 with credit card details,
or fax (02) 9906-2114, or send a cheque or money order to:
Grace Gibson Productions, PO Box 7377, Leura NSW 2780.
If sending a cheque or money order please ensure you nominate what you are ordering and include your address details for dispatch.
If you do not wish to receive further updates, please email us at info@gracegibsonradio.com with REMOVE in the title line and include your details, or phone us on (02) 9906-2244 or fax on (02) 9906-2114.
A Few Important Notes… Please Consider Carefully Before Ordering:
mp3 Format CDs - these may not play in some CD players
Audio Quality - Whilst we go to great lengths to ensure the audio quality we offer is the best we possibly can - including processing our
material through the worlds best audio processing from CEDAR Cambridge - the programs offered herein have, in many instances, been
retrieved from original recordings produced on 16 inch, 12 inch and 10 inch record albums and may therefore reflect the recording and
reproduction fidelity of their times. In offering these programs for sale to the general public, we cannot accept responsibility, nor offer refunds,
for any disappointment with the audio quality that some of these serials may exhibit.